Subtwo the pure
We present the result of our opinion of music-performance, soundobjects with absolutely stirring qualities.
Subtwo the pure are concept-loudspeaker with outstanding qualities.
Innovative and unconventional solutions possesses an absolutely alive feeling.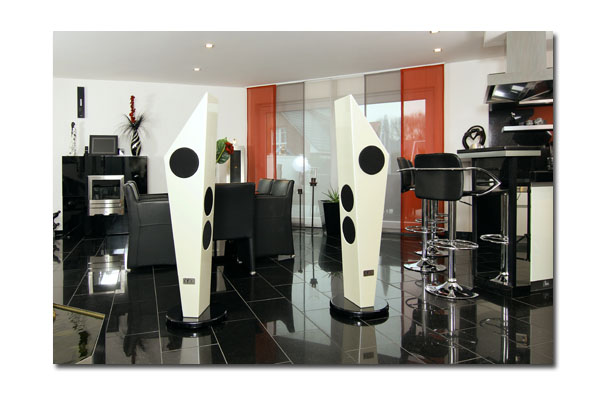 The processor-controlled active-loudspeaker with separate transconductance-amplifier of the innovative german
ABACUS specialists have integrated an exceptional DSP-Prozessor with protruding qualities.
The electronics absolutely perfectly supports the active concept with fullrangesystem and double-subwoofer.
Exceptional and highmusically fullrange-systems conjure in ideal manner as point-source-speaker
an absolutely realistic and alive stage into the livingroom. Two special Subwoofer each side are able to work up to 16 Hz.
The specially in Subtwo the pure working active-modules control all loudspeakers
in all situations extremely. The enormously dynamic and realistic presentation of the musical events
by Subtwo the pure gives the ambitious listener the possibility to be live with it in the own livingroom.
Features ...
A highdynamic fullrange-system in open wall
Two very fast subwoofer each box
Newest DSP-technology
Microprozessor controlled with separate transconductance-amplifier
Nominal power RMS 120 W
Frequency-response from 16 to 20.000 Hz
Automatic switching on
Symmetrical input over XLR
Symmetrical input over 6,3 mm jack plug
Line input over Cinch
Overload-protection
Hightemperature-protection
Subsonic-filter
Volume adjustable
Bass roll-off adjustable 16 to 200 Hz
Measurements 400 x 1480 mm (pedestal-diameters x height)
Highpolish mother-of-pearl white / black
Weight 40 kg each box
Mold and color manages an infinite field of creative possibilities ...
Noble varnishings or individual paintings, loudspeaker-fronts out of noble woods, pedestals out of slate or marble,
the harmonic correspondence of the elements is important. Each idea is it worth to be moved.
Very special thanks for the fantastic cooperation and support
by Karl-Heinz and Hanno Sonder from ABACUS electronics (Germany).
Music connects our world